I have been closely following Edwin K. Kiptoo as he blessed my TL with his artistic fashion and after his win last weekend at his school pageant I thought it was the ight time to interview this designer with a bright future in fashion.
Who is Edwin Chiloba? What is your pronoun? What is your gender identity?
My name is Edwin Kiprotich Kiptoo. Pronoun He/His/Him I am a male high fashion model and a fashion designer student at The University of Eldoret in my third year of studies.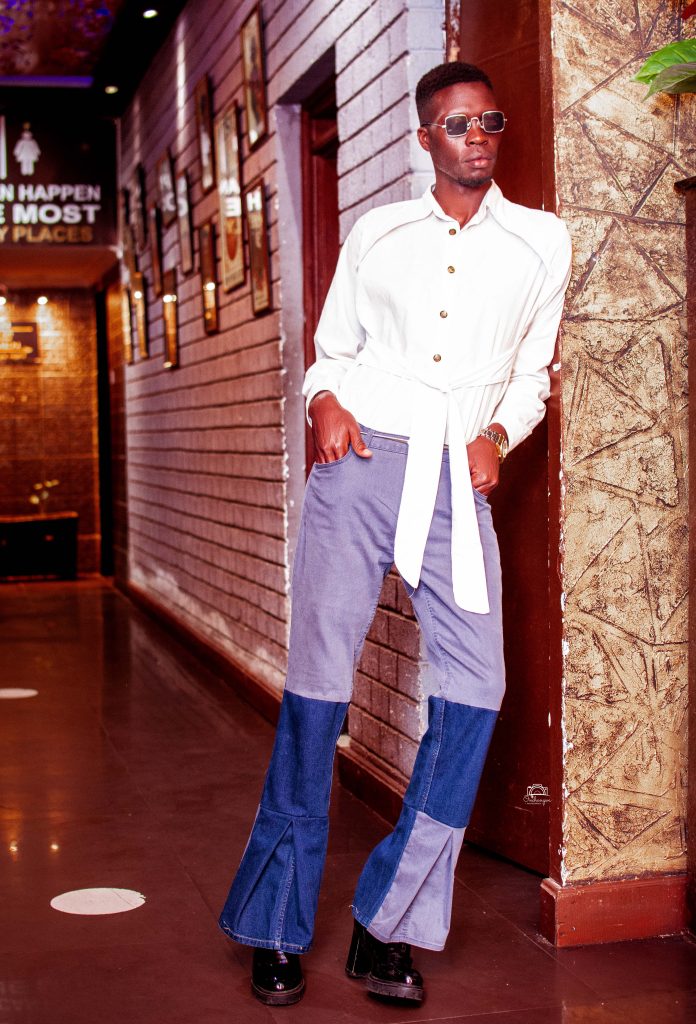 Where do you draw your inspiration from?
I draw my inspiration from the current fashion generation whereby people are free and diverse to wear clothes that don't discriminate their gender. Designing has also been a part of my DNA, I am gender-free and I love dressing in an artistic way. I am so grateful and I feel so chosen to help change the narrative in representing diversity and inclusion. I am just being and I am free.
Who's your fashion icon?
I have a list of fashion Gods, to mention just but the best has to be Billy Porter, I love Alton Mason, people around me, and My imagination also plays a huge role in finding an iconic figure.
Does culture have significance in your fashion expression?
Yes, culture has a huge significance in every bit of my designs. I am African and heritage plays a huge role in every African home, my designs are always designed with an African touch to remind myself where I come from, my origin and identity, it's also a way of reminding the world that there is power in expressing yourself through art.
What's your motivation/end goal?
My motivation is assuming my identity. It's all about assuming who you are whether you're black or white, tall or short, it's about acknowledging that whoever you are you are ENOUGH!
My goal as a model and a designer, I want to see myself and my art explore hearts and motivate a lot of souls out there to be themselves and love who they are and what they do.
As a gay designer are you compelled to tell the plight that is facing the community?
Coming from a community where being Queer is taboo blocks a lot of my ambition because of the fear of being exposed. That can be a challenge but no challenge can't be defeated. I strongly believe with the right expression delivery through my art I can change the way people think and see me more than my sexuality.
Have you had challenges in your studies and work?
My story is just bizarre, coming from this part of the world where same-sex relations are criminalized. My campus is full of cultural norms, living through them, defies almost every bit of me.
I am daily sitting on the other side of my own world and assuming the reality just to help myself deal with the stigma. The same applies to my workstation. When I do the designs, fellow designers push me aside and judge the outfit I deliver tagging them as "mostly weird" and I sometimes hear them whisper "he is gay " to clients who have been referred to me. But at at end of the day #assume your identity keeps me going and I choose courage over fear because fear is a choice !!
Do you get the cliché comments that your sexuality comes with your sense of fashion and how do you navigate that?
There are weird people around the world, having their insecurities and sometimes they project them to you. The cliche comments are as many as the positive comments. I personally don't go deep nor take it personally since you can't change how people think about you. I believe in self-acceptance and that being an authentic self is how you teach people how to treat you with time.
What is your mission/ where do you want to be five years from now?
My vision as a fashion model and designer is that my art is exhibited on higher grounds accepted and loved without discrimination. I also want to get to an era where norms and beliefs are no longer a boundary between me and my art.
My mission is to change the narrative into bringing diversity into inclusion through art.
Quick fire Q's:
What are you currently listening to? Afrobeat tunes
What is your go-to comfort food/hobby? Watching high fashion shows with a glass of wine
Your must-have everyday accessory? Hats and a wristwatch
Words by Edwin Kiptoo
Compiled by Muthoni Ngei